Filtration Technology is an approved agent for Baldwin filters to help you protect your engine from the harmful effects of water and contaminants in all fuels and oils.
BALDWIN FILTERS: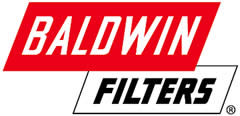 Tank after tank of fuel, Baldwin filters helps your fuel flow freely. Dirty fuel can sap your engine's power and shorten engine life.

Let Filtration Technology help by supplying you with good filters that will pay for themselves many times over in increased engine performance and longer engine life.

We at Filtration Technology also do FREE, on-site oil analysis and microscopic reports for metal wear as part of preventative maintenance when you our customer use our products.